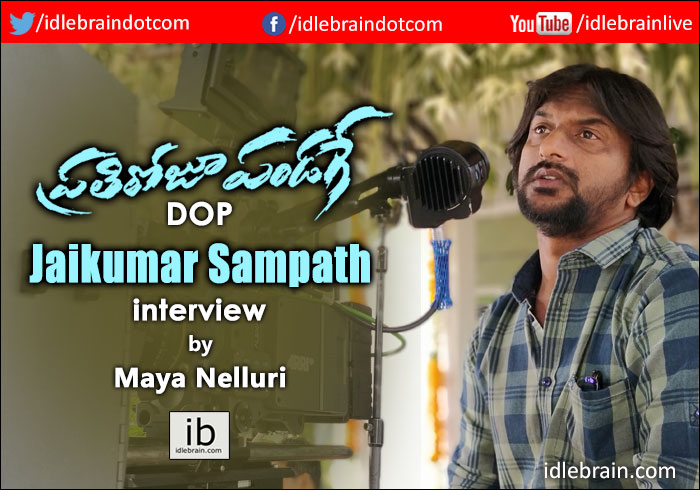 18 December 2019
Hyderabad
Jaikumar Sampath, DoP of Pratiroju Pandage speaks to us about his experiences leading up to debuting with such a massive project.

This is your first Telugu film as DoP; How was the experience?
It was wonderful to get such a good opportunity for my debut. Everything about the film is massive, it's with such a big production, director, hero, music director, art director. I'm thankful to the producers Vamsi and Bunny Vasu sirs and of course our director Maruti sir for the opportunity.

Was it tough to manage?
There were so many characters in the film and every character was important so I need to expose them properly. There were also many established actors but I managed it well because of the support from the director, my team, and assistants.

When did you decide to get into this career path?
When I was studying in 10th standard I would watch the Discovery channel and developed a lot of love for animals. I wanted to be in nature so I thought wildlife photography would be the best to enjoy that atmosphere. But at my home they wanted me to do Engineering etc. They forced me to do an MBA after that but I discontinued because I wasn't interested. Then I worked in marketing for just 1,500/month. By the end of working there for a year I had a massive accident. After that my family wanted me to stop that job and do banking. They made me attend a lot of interviews but I would just attend and not perform. I lost 2 years that way because I always was thinking about photography. Then I got in touch with a photographer whom I knew from my first job and asked his advice. He said it's not easy to learn photography and advised me to join classes so he can take me as his assistant.

So did you end up joining a photography course?
During those times it was expensive to learn photography and I didn't have the money because my parents weren't supportive of my decision. Still, I had saved up 5000 and started off on a 3 month course. I still needed another 7000 to pay for the entire course so some of my friends helped with that. Then I needed a camera to practice but I didn't have the money again so I went to the same photographer Nagabhushan and he gave me a Cosina c1 DSLR camera 35mm. That's the only camera had then.

So how did you get into the film business?
When I went to my first class itself I got a massive shock because the lecturer told us about all the types of photography and equipment we needed for each. The most expensive was wildlife and I could barely afford things as it was so I got very depressed. At that point I realised it was difficult to get into NAT Geo etc. But I had already opposed my whole family so I decided to start working for marriages. After that I got into marriage videography. There I learnt to handle the camera. Then I went back to Nagabhushan and he gave me my first opportunity to work as an assistant cameraman in 2007. I learnt a lot from him. He was doing Ad photography but I wanted to get into films so I started trying from then. After 3.5 years I got an opportunity in 2010 in Naa Peru Siva with DoP Madhie. I was his 6th assistant in that film. My job was very small but tough. After seeing my performance he made me the 3rd assistant in the next film. By my 3rd film (Mirchi) I was his Associate. To become an Associate it usually takes 5-6 years but I did it in 3 years because I got the opportunity very difficultly and I knew the pain so I worked like anything. After Mirchi I did a few Tamil movies with him.

Tell us about the first film you did as a DoP.
In 2014 I did a Tamil film Aditi. After that Madhie sir called me for Srimanthudu and then I started working with him in Telugu for some time. Then I went back to Chennai and was away for a year.

How did you get the opportunity for Pratiroju Pandage?
I got called for Saaho so at the time I asked the producer Vamsi garu to give me the next movie, even if it's small, then I'd be willing to work for Saaho for free also. He promised that he will but after having made a 350 crore movie I wasn't sure if it would happen. Then he suddenly told me to go meet director Maruti sir; it was very unexpected. At the time I didn't have as much knowledge about the rest of the production houses and directors because I only worked with UV Creations. Once I came to know everyone involved was very established and I was the only new comer it caught me off guard. I don't know how it happened. I am very thankful to Vamsi garu for giving me such a big project. To work with Geetha Arts, Maruti sir, Ravinder and Thaman in my very first film I felt very nervous. I thought it might be better to call Vamsi sir and ask for a smaller movie but then my friends gave me confidence and I thought I should go for it. Anyway if I don't perform then they'd take me off the project or I'd come out of it myself if I felt I wasn't doing the project justice. In the end it all worked out.

How was it once you started?
On the 1st day I was so tensed and felt like I forgot everything. After half a day I spoke to Maruti sir and asked him to let me know if he doesn't like anything so I can change it. He said, 'No darling, I like the lighting and camera moment so you carry on,' and from then I got full confidence. You would not believe the comfort and support I got from Maruti sir. And also from Sathyaraj sir and Rao Ramesh sir who kept telling me they really liked my lighting etc so it was good encouragement. Now that it's done everyone is saying it looks nice. Have to see once it releases.

Have you signed any further projects?
I have 2 movie offers and another from Tej sir which might start from March or April. I'm not sure about which project I'll commit to before that but will decide very soon.
- Maya Nelluri