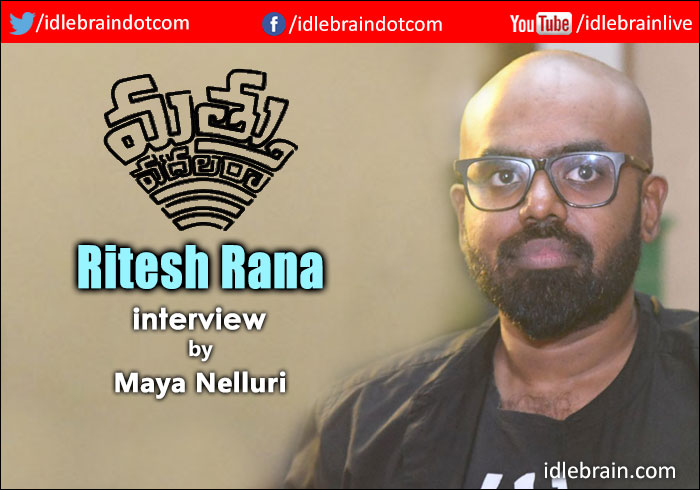 23 December 2019
Hyderabad
Debut director Ritesh Rana talks about his experiences going from a short-film maker to feature film-maker for Mathu Vadalara.

From the promos the film looks like it's geared towards men.
Basically I revealed what I could in the promos without giving away the story because it is a thriller. The film revolves around 12 characters. It's not about them being male or female; they are just characters that drive the story.

Anything you can tell us about the film?
The lead is a delivery boy who gets involved in a crime. What actually happened, who committed the crime, how the delivery boy dealt with the situation, and how he came out of it, makes the film. There will be plenty of twists so we didn't want to reveal too much in the trailer.

The lead is Keeravani sir's younger son and the Music Director is his elder son. How did that end up happening?
Cherry garu, the producer, is a relative of Keeravani sir. When I first narrated the story he asked me who I was thinking of going with and I said I wanted to go with a new cast. Simha was there during the narration. I thought Cherry garu must've asked him to listen to get the perspective of a young person. After the narration he left. During the discussions Cherry garu asked what I thought of Simha for the film and I told him he looked apt. That's when they told me he is Keeravani sir's son. In the beginning I was worried because I wasn't sure how it would be to work with them, how much they'd want to be involved, because this a completely story driven film. But there wasn't much to worry about because only Karthikeya and Bhairava were involved. They also didn't pressure me to cast Simha. We auditioned him, felt he was fitting and then took him. As for Bhairava for the music, that was entirely Cherry garu's call. I had heard the songs he sang but didn't know much about his music. Cherry garu was very confident on him so we went with him. In the beginning I had my doubts and it took us some time to sync together but now I'm 200% confident about the music. The RR/ background music of this film will be the highlight.

How'd you get this chance for your debut?
We were a team of 4 people who've been making short films since 10 years. In 2016 I got an appointment with Cherry garu. He's the CEO of Mythri. At the time he said he's just listening to scripts and isn't guaranteeing that Mythri will do the film. Then they had just released Janatha Garage which was hit and were doing Rangasthalam. I narrated, he liked the script and after 3 months he called me back to narrate to others at Mythri. They asked me to come back with the dialogue version and they liked it too. Then Simha got fixed and we did other casting. They asked us to do a demo shoot after that with the entire team in place. Once they saw the output they okayed it.

Did you work for other films prior?
No, we did wedding photography to cover our expenses. With that money we would also buy cameras and other gadgets required and made short films.

How does it feel now that the movie is up for release?
Very happy. I've waited 3 years for this and all through the 3 years the excitement was constant. Usually it decreases as time goes by but because of the confidence I had on the script I feel just as excited today as when I first started working on it. And I'm certain that once someone goes to the theatre they will definitely like it. We've actually screened it 4 times to get audiences' feedback and got a very positive response. Now I'm excited more than nervous about the release.

Anything you'd like to add?
The film is releasing on December 25th so please be there on the 1st day 1st show so you can see the effort we've put into the project. There's no hero-heroine, love songs, item songs; it's a totally story based film. And since a reputed banner like Mythri has taken a chance on a totally new team, if this film succeeds, more such new talent will get chances in the future. So please watch and encourage us.

Have you signed up for any future projects?
I am with Mythri movies for the next project as well. Depending on this movie's success I'll take a call on the scripts etc.
- Maya Nelluri