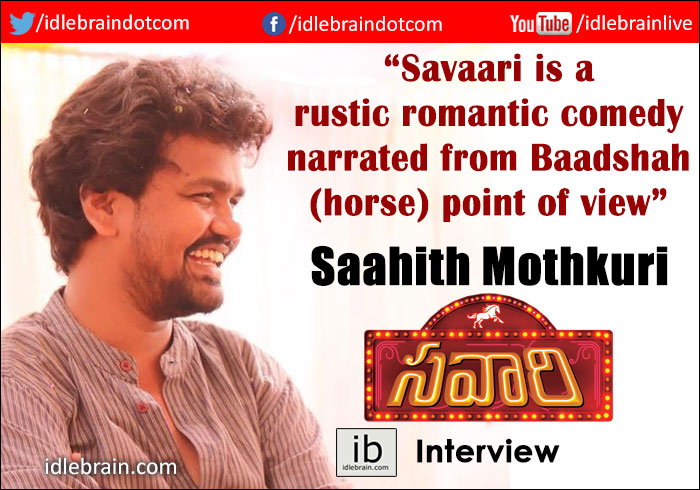 6 February 2020
Hyderabad
Saahith Mothkuri has won several awards for his independent/short film Bandham Regad. He is making his debut with Savaari film and narrates it from the point of view of a horse. He shares more details about this romantic comedy in an exclusive interview with idlebrain.com -

Background
I am from Nirmal and my parents are government employees (now retired). I watched two kinds of films when I was a student. Chiranjeevi films and Telugu dubbed films of director Shankar. I did my intermediate in Hyderabad and B Tech from Aurora, Hyderabad. I was involved in cultural stuff right from my 7th class and I used to direct stage plays. I completed a degree in Engineering in 2009. I have been trying to find my foot in the film industry since then. Since nobody is going to believe in my abilities if I don't have anything to show, I had directed an independent film titled 'Bandham Regad' in 2017. We had mounted that film with a good technical team. It has won a state award and SIIMA award. It was also screened in the USA to packed houses. Bandham Regad was produced by my friend Nishank and my brother Santosh.

By looking at the positive response of Bandham Regad, the same producers have decided to produce my debut feature film Savaari.

Savaari
Savaari film has the backdrop of core Telangana. The entire film is narrated from the point of view of a horse. It's a rustic romantic comedy that happens between a poor boy (who earns a living by renting/operating a horse) and a rich girl. Baadshah is the name of the horse. Comedy actor Rahul Ramakrishna has dubbed for horse and it's very effective.
Nandu was approached to play a supporting character

I had around 3 popular heroes interested in this script, but it never materialised as I had to wait for one more year. I approached actor Nandu to play a supporting character called Sandy. He liked the script and said that he would play that character. I approached Nandu for that character because a few films featuring him in supporting roles went onto become big hits (like Pelli Choopulu). Later that night, he kept a long and sentimental message to me by saying that he is floored by the hero's character and requested me to take an audition. I was skeptical as the character talks in raw Telangana. I was impressed with his preparation when I took the audition. I decided to go with Nandu and designed the character in such a way that we see the character instead of the actor in the film. He has surprised us all with his work.

6 characters
This film has six primary characters - Raju (Nandu), Baadshah (horse), Bhagi (Priyanka Sharma), Sandy (Siva kUmar), Arul (Maddy) and Khali (Srikanth Reddy Ganta).

Economics
Savaari is made with a budget of Rs. 4 crores (including publicity and landing cost). Though a small film, Savaari is releasing in over 200 screens in AP and Telangana. This film is releasing over 35 screens in the USA.

Idlebrain's influence
I grew up surfing idlebrain.com in internet cafes by reading reviews and interviews. I remember reading reviews in RTC X roads cyber cafes during intermediate time and then comparing them by watching films. I am happy that my interview is being published in idlebrain now.

I have 2 stories
I have a couple of stories ready with me. I will narrate it to heroes depending on the commercial success of Savarari.