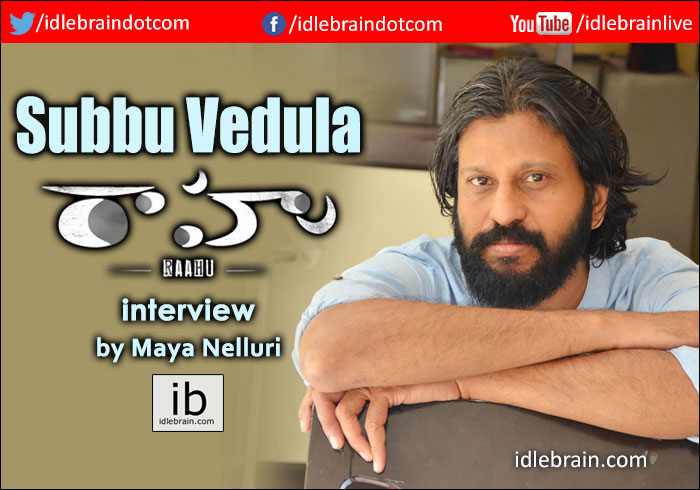 27 February 2020
Hyderabad
Director Subbu Vedula is debuting with Raahu this week. Read on to find out about his journey.
Tell us how you thought of the concept for Raahu.
The protagonist of the film suffers from conversion disorder – hysterical blindness. I had a colleague in the US who was going through this so that's how I got to know about it and got the idea for the film. It has several other symptoms, it can affect anything, but I picked blindness.
You were in the US?
I was working there in software for 13-14 years. Simultaneously I studied TISCH at the NY School of Arts in the division of Fine Arts.
Did you always want to direct?
No, the idea started down the line after I started working. As I was watching movies I thought I should attempt to write stories. When I started writing scripts I felt the need to show them to audiences. And of course movies are the best medium.
Did you have any connections in the industry?
I had some friends like Kona Venkat garu and BVS Ravi garu so through them got some more connections like Veeru Potla garu, Dasaradh garu and so forth. They are friends and acquaintances but that didn't convert to business or movie making. It's been a long road to direct.
How long did it take you to make Raahu?
I had spent years pitching stories to heroes and finally things worked with Raahu. After writing screenplay and dialogues in six weeks it took three years to get to the execution phase.
Did you make any films in the US?
After studying film I did a couple of short films and featurets there.
Did you find any major differences between filmmaking in the US and India?
From a technical standpoint, the jargon is different but the craft is the same and the schedules are the same. But the way to work with people is quite different between the two.
How was your experience of making Raahu?
It's definitely been a ride to enjoy. Lots of fun. There were hectic schedules and the shoots were tough because we shot in extreme conditions, high altitudes, extreme cold – sub zero temperatures and extreme hot weathers but I enjoyed the whole process. We took 52 days to shoot.
Do you have any advice for others wanting to direct?
I'm ot in a position to give advice because it doesn't hold value unless it comes from a successful person in a craft. I'm more than qualified to do so in software but don't want to give advice in this industry yet.
What can you tell us about Raahu?
The film is very thematic. In the trailer there is a Telugu line – Raahu suryudini pattukunte adi grahanam. Manaloni bhayam, stress, mana choopuni pattukunte adi conversation disorder or hysterical blindness. What i was trying to convey through that is when raahu eats surya it is called a grahanam. When the protagonist is attacked by the stress of seeing blood she is affected by blindness. Both the sun and the heroine have the same type of problem. She has to deal with another raahu as well in her life - a demon. So the title is apt in many ways.
What genre would you put Raahu in?
It's a suspense thriller. This isn't a paranormal film, horror or anything. The audiences will enjoy an edge of the seat thriller throughout.
Would you say this is a female centric film?
A female has believeable vulnerability. If the protagonist is a guy that vulnerability won't be there. Take films like Dare Devil etc. the protagonists are still macho. There's less vulnerability. Even in Hollywood the horror or thriller genres will usually have female protagonists because the audience roots for the girl. With Raahu there is also a male protagonist who is the heroine's love interest. He is a cop, and when she goes missing he investigates. Whether he is able to get to her and how that pans out is also an essential part of the story.
Have you got any projects planned for the future?
I have a few bound scripts so I definitely want to start the next one as soon as possible.
- Maya Nelluri