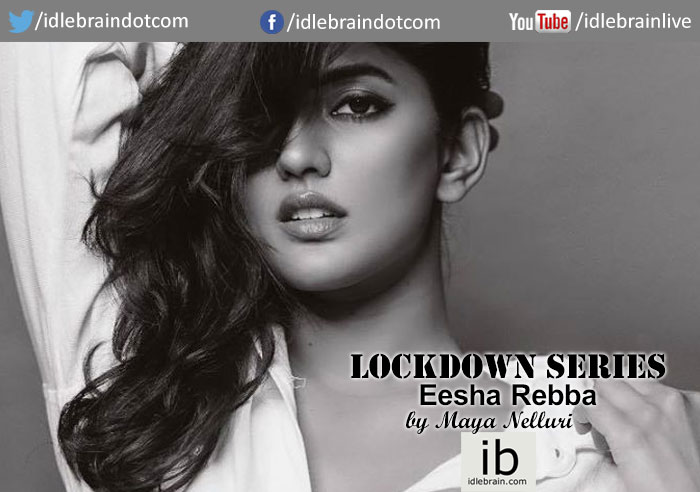 18 June 2020
Hyderabad
Eesha Rebba, our very own Telugu beauty, has been busy during the lockdown with everything from house work and workouts to working for the community.
How did you take the news of the lockdown?
There's a lot of competition in real life and so much hustle and bustle. So when suddenly the lockdown started it was very unexpected. It was stressful not knowing the consequences initially. Now we've all accepted it so we are able to make the best use of this time. One thing I'm getting time for is take care of myself which I wasn't doing. I never used to eat on time with travel and shoots. Now I'm very organised, I'm eating well, no outside food, working out, doing work around the house!
Anything interesting you did during the lockdown?
Cooking. I don't like it but had to do it this time. After lot of years I painted something again. I've also been feeding stray dogs when I go out for walks with my dogs. And I didn't really mention it anywhere else but I tried to do as much as I could for those in need. I got together with an NGO to distribute food to migrant labourers; also got permission from the commissioner for my team to travel and supply necessary items like sanitizers, masks, soaps and rations to them.
Best part of lockdown for you?
Being able to take care of myself. There's no tension, no work, except a few lives online. I'm able to sleep, relax, spend time with dad. My parents used to complain that I don't have time for them so now they are happy.
Anything you were craving but couldn't get your hands on?
I badly wanted to have cake. I was even going to bake but there were no baking products when I went to buy. I guess there was a lot of panic buying. Twice I stood in the hot long queues for groceries in the sun and then gave up! *Laughs*
What do you want to do as soon as the lockdown is over?
Shoot obviously! I know it won't start immediately but narrations can happen. I don't like doing them over phone so will go out with a mask and all and do that. One of my Tamil films is up for release
I was meant to be starting a Kannada film. And I'm supposed to sign a couple of projects in Telugu.
- Maya Nelluri