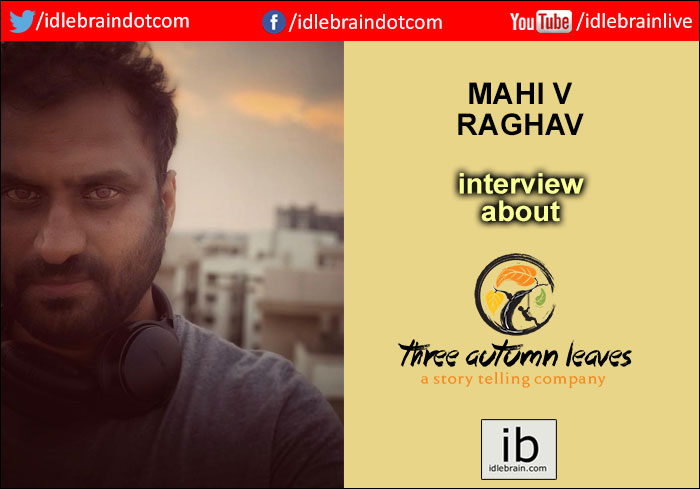 26 June 2020
Hyderabad
Mahi V Raghav is an NRI from New Zealand. He has resigned his job in NZ despite having a citizenship there and came to Hyderabad to direct films. He started his career as an unsuccessful producer before venturing into feature film direction with Paathshala. He has tasted success with horror comedy Anando Brahma followed by YSR's biopic Yatra. Realising the importance of OTT and it's futuristic demand, he is also penning and producing OTT content. In this chit chat, he talks about his latest company Three Autumn Leaves and his observation about OTT content--
Tell me about feedback you got for the last movie Yatra?
Yatra was a movie that ended up giving me niche admiration. The process was extremely fulfilling and something that I will cherish. Though on the downside the movie hangs on and is difficult to let go.
Your original production house was Moonwater pictures. Now you have shut it down and started a new company, Three Autumn Leaves?
As a person I am very curious and films end up giving my curiosity a way forward. Though in this process I do believe that I am a producer by accident. It was never planned. I strongly believe that production requires a particular skill set and the same becomes the core of coming out with a quality output. Hence when I realised that some of those qualities were ingrained in me even as a director, it was not very difficult fitting into the shoes of the producer. For example I never overshot any film except for scenes that were critical or that I have always been a stakeholder in all my films.
As a producer I made three films on Moonwater Pictures and realised that the market is moving and changing at a speed which we are not. Hence We found 'Three Autumn Leaves' for Yatra and apart from directing the film I was also a part of the production for that film. And it is through the understanding of the market we realised that we cannot be focusing on just films any more. There is something called the web that has come into.The idea of Three Autumn Leaves is to bring the untapped content onto the OTTs given how the industry is booming. Well afterall Old habits die hard.
What does 'Three Autumn Leaves' mean?
Three Autumn Leaves has a meaning that is not surrounding films but the understanding of which can help the filmmakers work in peace. It's the Buddist version of the Holy Trinity - Life, Death, Continuation. Like Father, Son and Holy Spirit in Christanity.
How different is Three Autumn Leaves compared to other production companies?
There is one major aspect that makes us as Three Autumn Leaves unique and that is that we want to be sure that the writer if the story gets the lion's share of credits and finances while he/she is in the process of writing and developing content. It was a realization for us that the writer is the most important stakeholder in the process of creating content for films/otts. Hence we have set up a seed fund of Rupees 25 Lakhs for the writers and are on a lookout for writers who we can invest in and have stories developed in house. We look at investing 5 Lakhs per writer and back their content as a production house.This we are hoping will give writers some confidence to let their creative energies flow.
What is the main aim of establishing Three Autumn Leaves production house? What kinds of stories do you want to tell?
The OTTs are known for giving certain liberation to such stories prompting the writers to write beyond the boxes. And unlike films, shows tell greater stories. When a show has the ability to go on for seasons, you're being given multitudes, more room to tell a far detailed story. Major characters can be slowly formed or killed off to pave a whole new plot. Taking these factors into consideration, Three Autumn leaves, is established to empower young people of all backgrounds to develop and write content not only for films but also explore and understand this newly boomeed sector of the OTTs and work on content for the same.
How is the webseries scene in Hyderabad?
The webseries scene in Hyderabad is surprisingly extremely active.We are in touch with about 5 platforms and all of them have shown interest in the content bank offered to them from our side. You can expect formal announcements post the covid-19 scenario.
Any Interesting Content being worked on?
My strength has always been producing the content on paper first. That's where the crux of filmmaking is. Apart from producing films, we are very keen on producing OTT content. Filmmaking is a huge process and OTT is a simple process. We are currently working on content of 4 web series for OTT and I wrote 2 of them. Like I mentioned earlier, formal announcements will flow in very soon.