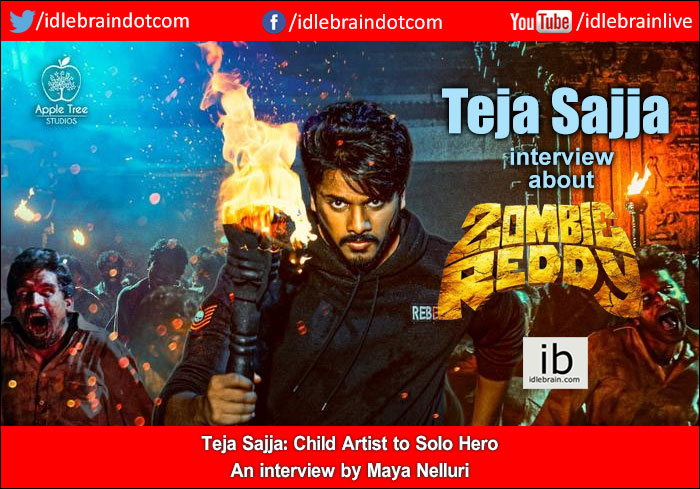 5 February 2020
Hyderabad
Discovered at just two years old, Teja Sajja fell into the career most dream of. After having been one of the most successful child stars, he is now debuting as a male lead in Telugu with Zombie Reddy. Read on.
Tell us about how you were discovered.
My brother once took me to a store. Director Gunasekhar garu saw me there, clicked my photos and called my parents. We are not from films, my dad is into pharma, so initially he said no. Later he realised Ashiwini Dutt garu was the producer and they grew up in the same neighbourhood. Since it was them, he felt assured that I would be taken care of. And at that time it was the biggest film. They thought it'll be a great experience for me, a holiday, a one-off type thing. I was two and a half years old when I was acting in the film with Chiranjeevi garu.
How was it being a child actor?
By the time I got to know what shooting was I was already working with Ashwini Dutt garu, Raghavendra Rao garu. All the directors repeated me as well. I did three for B Gopal garu, VV Vinayak garu. I would sit on their lap, listen to the script and go perform. Acting came naturally. After Chudalani Undi I was flooded with offers. Then Indra happened and there was no looking back. After Indra within the next 3-4 years I had done 25-30 films.
Was your education affected when you were acting?
I'm from HPS. They encourage kids who are talented in other fields like acting, cricket etc. There's been chief ministers, actors, athletes, a lot of people are from there. HPS really helped me cope up with studies even with my acting schedule.
Why did you choose Zombie Reddy for your debut?
For me the USP was director Prashant Varma. Any debuting actor would want to do so with a known director like him. The script also excited me a lot. I was looking for a different type of script. The audience will come to watch the story, a new concept, so I wanted to do something different, other than a love story. I wanted it to be as entertaining as big film. It actually took me seven years to get the right script. I got other offers but there are films and then there are theatre films. Zombie Reddy is action, love, comedy but with zombies so now it's a new age film with all the commercial elements. It's the perfect festival film!
How's the experience of doing interviews for your first project as a hero?
I'm actually into many backend activities like outdoor publicity, release preparations etc. so in the back of my head that's all running while I'm doing the interviews.
This is your debut as a male lead. How has this experience been compared to being a child artist?
It's more burden, tension, responsibility. Anything regarding the film will be attributed to me. I'm usually a responsible person so when a producer invests in me, I feel even more responsible. I'm always looking at how things are going. Maybe after a week, it'll sink in and I'll be excited and happy.
Going forward will you be focused completely on acting?
Definitely. I'm doing two films right now. One with RB Chowdhury garu - Super Good Films. I'm doing one in Charan anna's, Chiranjeevi garu's. I've also finished shooting for the Mallu remake of Ishq. They are waiting for the release of Zombie Reddy.