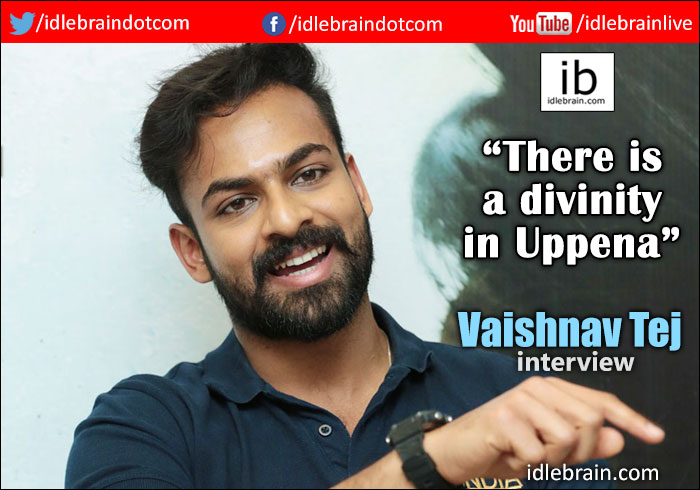 11 February 2020
Hyderabad
Vaishnav Tej is the new entrant from the mega family. He is getting a huge launch through the prestigious Mythri Movie Makers banner. Uppena which also has supervision of Sukumar is all set to release on 12 february. Here are some excerpts from an exclusive interview -
Tell us about your debut as a child actor in Shankar Dada MBBS?
When I visited Mama's (Chiranjeevi) house, he put a fan in front of my face and asked me not to blink for 30 seconds. After that he asked me if I wanted to act in a small role and I said yes. That's how my debut happened. 30 seconds without blinking was the task.
What is the age gap between you two brothers (Vaishnav and Sai Dharam)?
8 years. He is a good friend.
When did you get interested in films?
I love cinema. I never wanted to become an actor. I was thinking about directing films. I penned a few stories as well. Then, I realised that direction is a huge task.
I used to be little obese earlier. I have joined gym and got rid of excess weight. I have uploaded a couple of pictures in my insta account. I got a few offers to act in films. When I informed mama about it, he asked me to respect it and take it seriously. He has asked me to learn about acting. I joined an acting school. Then Buchibabu garu came up with the Uppena script.
You are an urban kid and you had done the role of a rustic fisherman. How did you transform yourself?
My motto in life is to put in 100% effort in whatever I do. I have done a few workshops to learn about fishermen. Buchibabu garu helped me a lot. He has a clear-cut idea about how the character walks and behaves. A fisherman called Kondababu helped me in learning nuances of the fishermen dialect. Fishermen are pure and uninhibited. My character is about that uninhibitedness. I also learnt it on the spot about certain aspects. It was a huge learning experience for me.
Your family members have watched the film. What is the honest feedback from them?
They were silent after watching the film. They didn't know what to say. They have never expected such a story. The biggest compliment I got is that the film is so realistic and felt like it is happening in front of our eyes. There is purity and divinity in the story.
Tell us about the heroine Krithi Shetty?
She is a very nice girl and she is very hardworking. She has learnt Telugu in 7 days. She is a great actress and she can cry without glycerin.
What is the most difficult thing to do for you while shooting?
I am comfortable doing crying montages. I found it very difficult to cry while telling a dialogue. I took a lot of time to do that scene.
Tell us about the director?
Sana Buchireddy is also the dialogue writer and screenplay writer. He is an excellent director and writer. I loved the dialogues in the film. He has learnt a lot from Sukumar garu.
What is it like doing with such an accomplished actor like Vijay Sethupathi?
He is very humble and down-to-earth. He always sits on a stool in the location. He gave me some suggestions whenever he thought it was necessary.
Tell us about your future projects?
I have finished a film titled Kondapuram, which is based on a book. Krish has directed that movie. Krish wanted Uppena to be in focus till its release. That's the reason why there is no news about Kondapuram. The promotions will start at a later point of time after the release of Uppena.
What kind of roles would you love to do?
I love doing action films. My preference is always for films with good stories. In Uppena too, the story is the main hero. We are doing important characters.