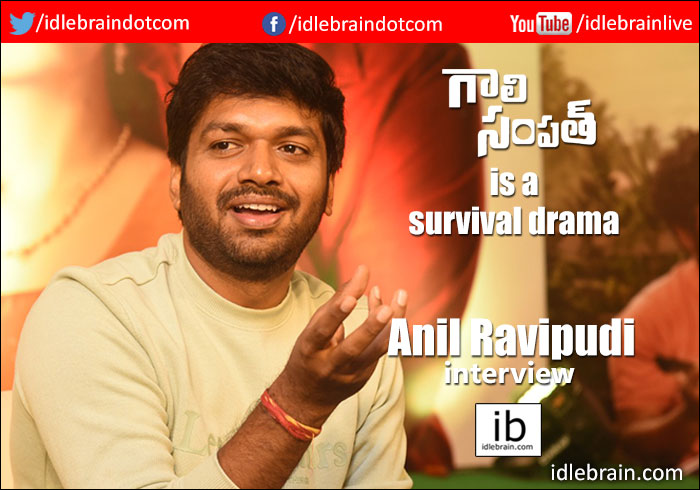 9 March 2020
Hyderabad
Anil Ravipudi who is associated with Gaali Sampath as a presenter, mentor, screenplay and dialogue writer talks extensively about the film. He reveals the crucial point in the second half of the film. Here is the full interview -
You have been delivering consecutive blockbusters as a director. What is the need to become a producer?
I am associated with the Gaali Sampath film because of my friend S Krishna. He came up with a nice and interesting story line. He wanted me to mentor for this film. I have provided the screenplay and dialogues apart from being the presenter of the film.
What made you like the story of this film?
I want the audience to know the premise of the story. First half of the film is dealt in an entertaining way with a unique characterization for Rajendra Prasad (who can't speak properly) and a peculiar relationship between the father and the son. 2nd half gets into emotional/thriller mode when Sampath (RP) falls in a 30 feet pit. I had always been a fan of films like Castaway and 127 hours which are essentially survival dramas. Sampath falls in the pit and struggles for 10 days in order to find out a way of rescuing himself. He can listen to people's voices. But he can't talk because of a problem with his vocal cords. The people who search for him don't know where he is. Rain plays the role of villain in this film.
Tell us about working with Rajendra Prasad?
This film is unique for him because there are not many dialogues and he has to emote through expressions. He has also done mime in the film and we had taken help of a professional mime expert for some scenes involving Rajendra Prasad.
Tell us about director Anish?
He has directed a nice film titled Ala Ela long back. He is a good director with a lot of sensibility. The climax of the film which lasts for 10 minutes is the heart of the film. The effectiveness of climax will decide the range of Gaali Sampath's success.
Was Gaali Sampath shot post-covid?
Yes. We okayed the script in October 2020. We started the shoot on November 15th and completed it in 42 working days. I love the fact that this film has emotions and also the fun generated due to conflict between the responsible son and irresponsible father.
Tell us about the F3 film?
F2 film was about wives and F3 is about money. We shot most of the first half in 22 working days. Now Venkatesh and Varun Tej have gone to shoot for Drushyam 2 and Ghani respectively. The next schedule will start on April 15. I am confident that it will be more entertaining than F2.
Tell us about your future projects?
I dont have the luxury of announcing any project as a couple of big projects are in discussion. I will announce once they are finalised. I have a good script which is a lady sports drama. I am keen to do sometime in the future,